Chevrolet Lao and education for Development Fund (EDF-Loa) have presented over 5,000 footballs to schools in XaysombounD Savannakhet Champassak and Xekong provinces through the Ministry of Education and Sports.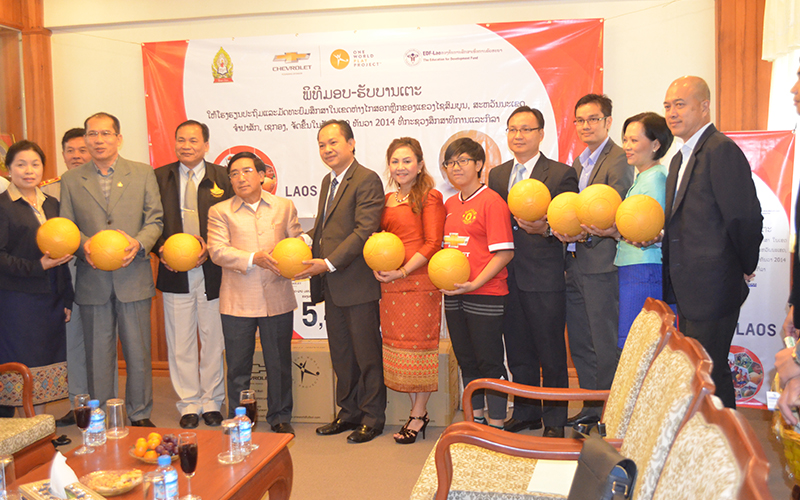 The 5,700 balls will be distributed to over 125,000 students at 2,684 schools in 34 districts of the target provinces for use in school activities
EDF-Lao was selected by Chevrolet to coordinate the distribution of the balls and arrange activities for disadvantaged children in Laos as Part of a cooperative agreement to promote One World Football. These balls, amazingly, never go flat, outlast regular balls and can be used on any type of surface.
The objective of the donation is to brighten the lives of disadvantaged young people in Laos by giving them more opportunities to play football.
The foot balls were presented at a ceremony in Vientiane recently the event was attended by Deputy Prime Minister and Minister of Education and Sports, Dr. PhanKham Viphavanh, and Manignom Group and Chevrolet-Lao President and Chief Executive Office, Mr. Souksamone Sihathep Also Present were other representatives from both sides and invited guests.
After the ceremony, staff from Chevrolet and EDF-Lao visited a school on the outskirts of Vientiane gave some balls to the children there.
They held a football clinic to teach the children the rules of the game and organized and friendly match between Chevrolet staff and students Pupils also played competitive games with the balls and won prizes.
Chevrolet and EDF-Loa share the same mission to improve quality of life through sports and education, especially for youth in underdeveloped areas of Laos.
Chevrolet and EDF-Lao will focus on Champasak province by organizing another activity a day for Sur ce site students that will include football clinic taught by the President of the Lao Football Federation, a friendly football match, games and prizes.
Officials from the Ministry of Education and Sports, and provincial and district education and sports offices, and staff and students from nearby schools will also be invited.
Speaking at the ceremony, Mr. Souksamone Said that providing the students with footballs will encourage them to be more active in their schools, communities and country
According to the One world Football project, "Play is an essential part of children's life and helps them to play, learn and grow. Play helps us to recover from trauma, cope with challenging situations and develop physical, psychological and spiritual health."
"Play enables hope, optimism and opportunity. In play, every child is a superhero, dreams can be realized, traumatic moments are temporarily forgotten and healing can begin-that is the power of play."