Manignom group together with HYUNDAI Construction Equipment, Chevrolet-Lao and Supporters were going to help victims of flood at Attapeu province on 31-03 of August 2018.

We were prepare cash, food, used clothes, first aid kits and everything that needed for them under project "Help with Love" and associated with many company After we had heard the dam was collapsed and the flood over Sanamxay district. The stuffs as in total was 78 millions kip.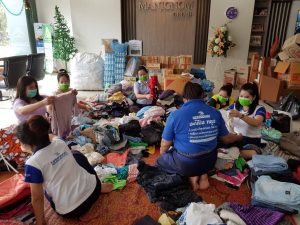 the group was started on 31/08/2018 at the head office of Manignom group,  Almost a day and took a rest in Pakse district, Champasak province for the first day.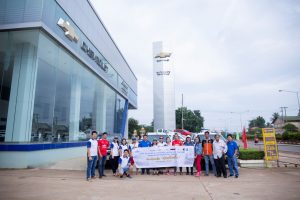 The next day morning on the 01/08/2018 before gone for the second day our team has taken photos at Chevrolet-Lao showroom Pakse Branch, in our caravans has fifth cars 4 cars was a Chevrolet and 1 was a truck that carried  stuffs. it was an extremely difficult road thought we were lucky that we went at the right time that there was a truck with a group of local people and lead us to the destination to Tamayor village, Sanamxay district, Attapeu province.
And than the next day on the 02/08/2018 we went to the city hall at Sanamxay district to hangover all the  stuffs to the city hall office.
We are proudly to day Thank you for all supporters that has donated and went with us  in order to help victims of flood, and also PTT Lao was a one of the main supporter.